For its 8th edition, Futur en Seine stroked again ! Making its demos shine in La Grande Halle de la Villette for the first time, the digital technology festival asserts itself once again as the unmissable innovation event.
In 2017 the future was hot : augmented human, news intelligences, little geeks, matchmaking techno… Everyone could test everything in La Grande Halle de la Villette. For sure, Futur en Seine is free (and it will always be) ! From June the 8th to the 10th, 22 000 visitors from diverse backgrounds have come across each other to test more than…
But what if we let you discover the numbers with a great infographics ?
What's up at #FENS2017 ?
« New intelligences » : Futur en Seine build a cycle of conferences, new collaborative formats, unusual artistic experiments around this challenging theme. You didn't have the time to test it all? No worries, you can relive everything on our Youtube channel.
Three highlights moments to be remember of 
The « Black Mirror – Through the Broken Glass » conference was crowded.
The Implant Party was back in the game!
Collaborative intelligence prove its worth with FUTUR Lab.
On the agenda: surprising demos and committed conferences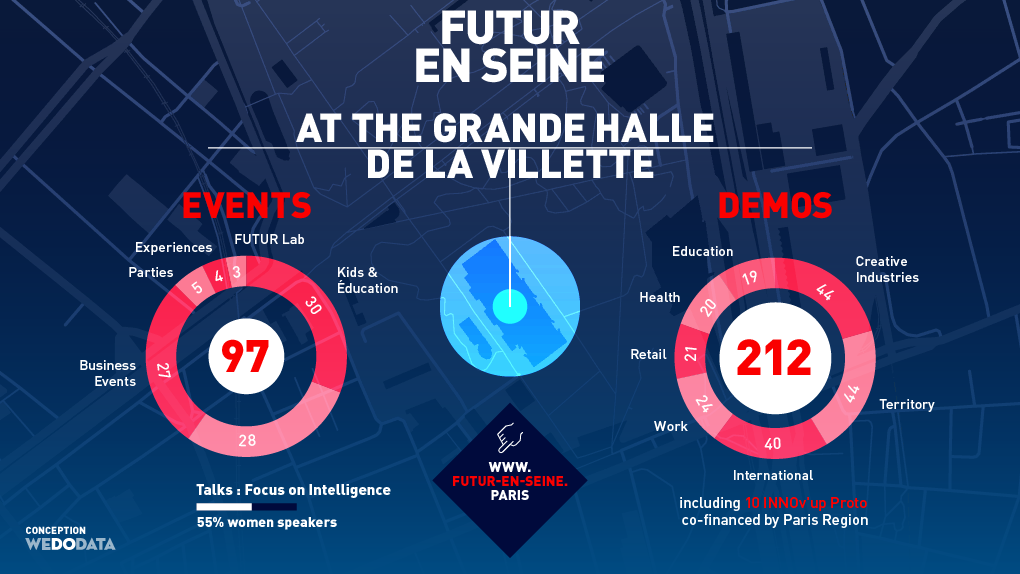 Test and argue, think and experiment: you don't split your mind from your body at Futur en Seine. Everyone was welcome to test more than 200 demos, take part in nearly 100 events and deep dive into the future. One of Futur en Seine's credo: the less heard voices echoed through the walls. 50% of the speakers were women, young people were involved, researchers, artists, activists, … gave their point of view.
Futur en Seine OFF is IN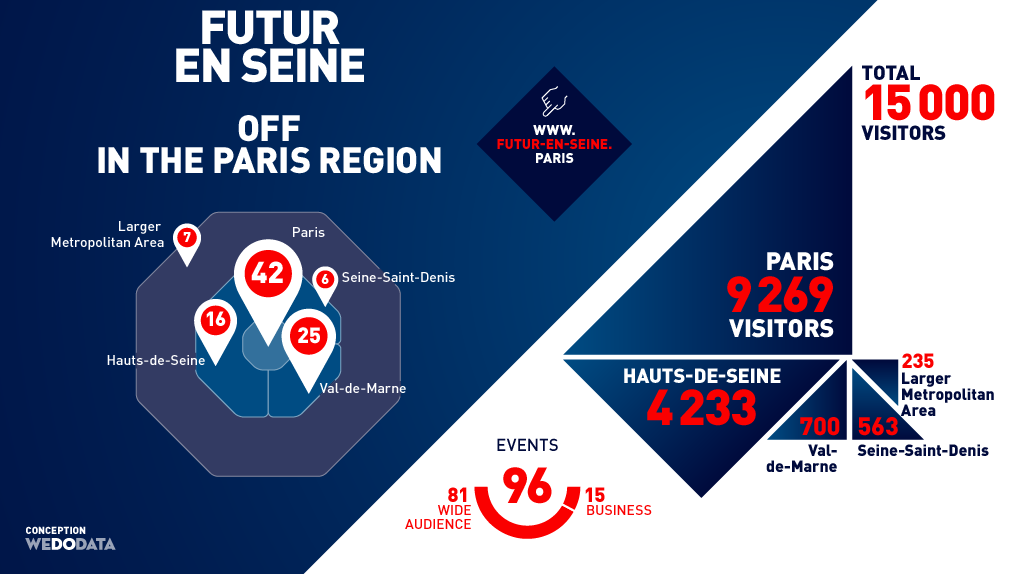 As every year, Futur en Seine operates in the whole Paris Region to bring innovation closer to Parisians. 96 carefully selected events welcomed 15 000 visitors, around digital textile workshops, sustainable mobility conferences, intergenerational creativity.
Innovation for all !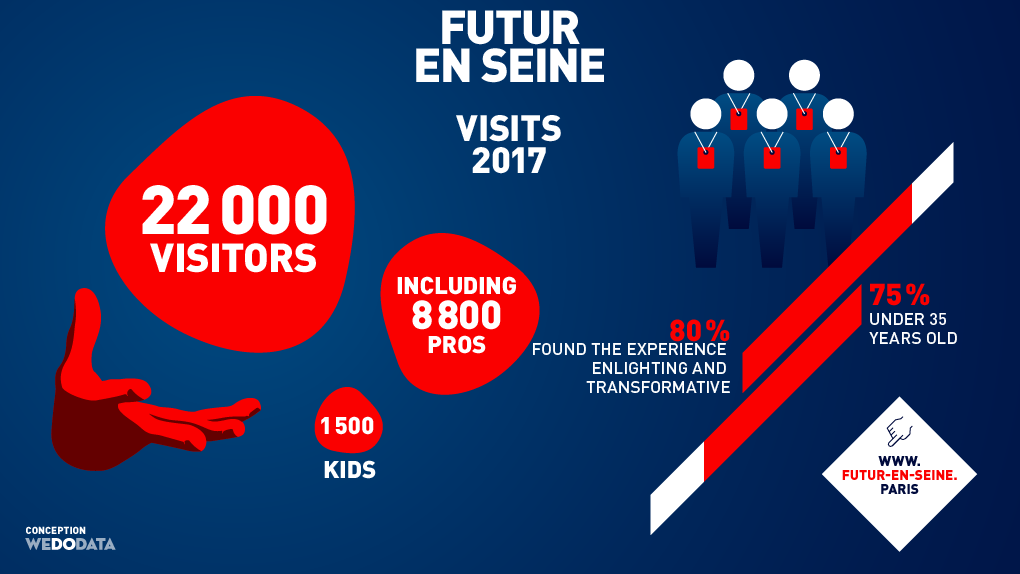 Who said innovation only concerns geeks ? Futur en Seine believes that technology has an impact on our lives, from 7 to 77 years old, and we should be able to test it, adopt it or question it.
Among the 22 000 visitors, you could come across the same number of curious persons, 8 800 professionals and 1500 kids.
Fun and business together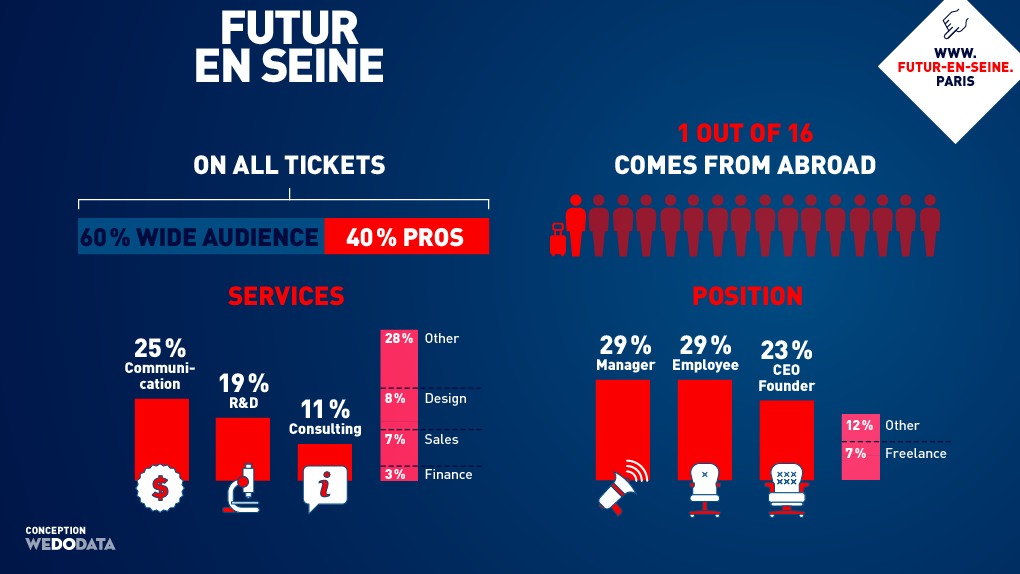 Futur en Seine is also the place to source innovation, find out about the newest trends, meet with technological partners, as show the 8 800 professionals that came to the festival. Their diverse profile illustrate the general spirit of the event: communication expert (25%), researchers (19%), designers (8%), business-developers (7%)…
Business not as usual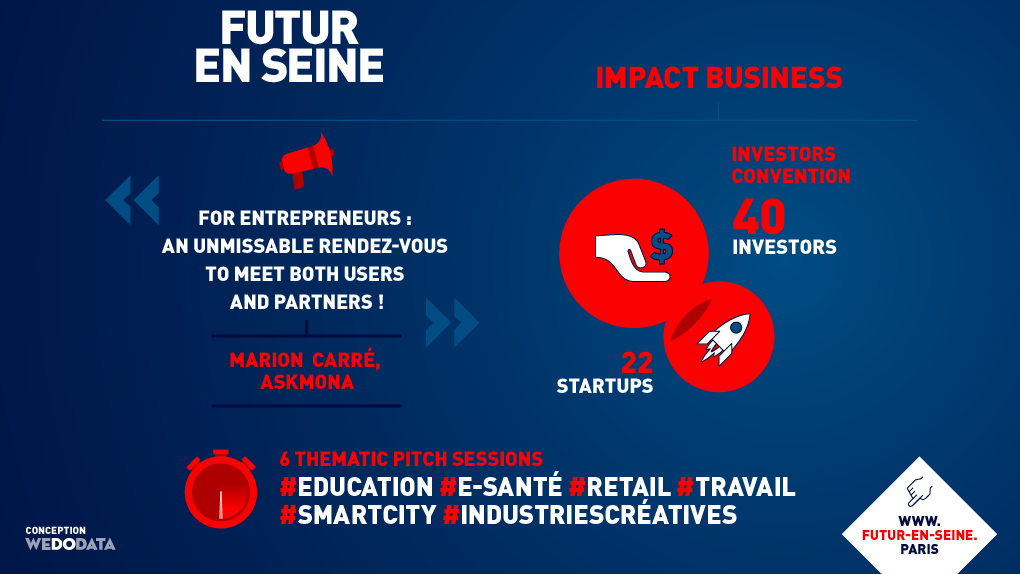 What do they do, those professionals? Exhibitors meet with their users and investors, big companies question their digital transformation, international delegations discover the French market. But most of all, everybody get together:
« A gateway into the thriving startup eco-system of France. I found it really rewarding to be able to show the product at Futur En Seine and was able to make really valuable connections with people in Paris and the startup community there. I am seriously considering moving to France to further develop the project.  »
Praveer Srivastava, Cam-Panion (Nouvelle-Zélande)
#FENS2017 to internet and beyond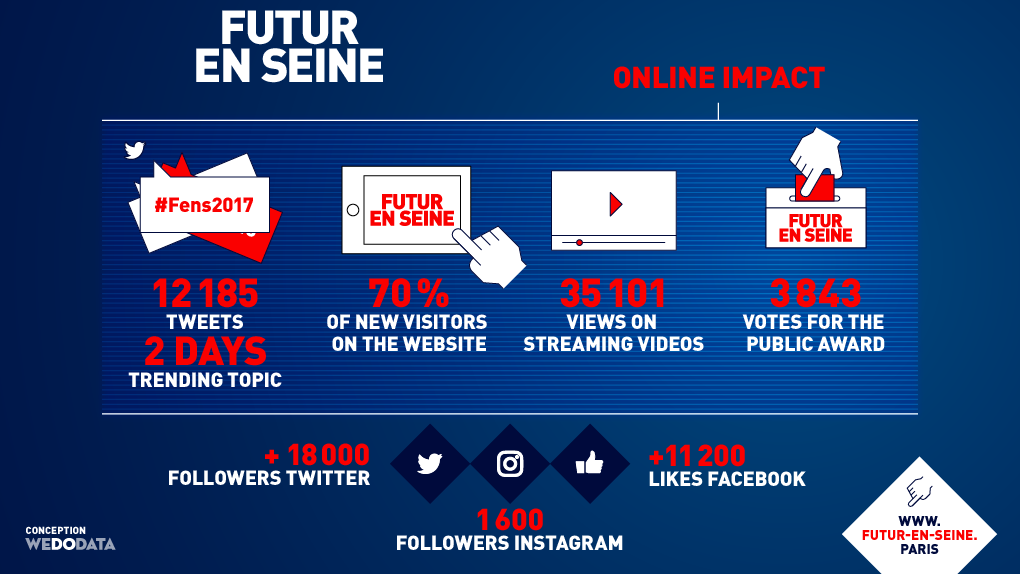 Futur en Seine boomed on the social medias: 12 185 #fens2017 tweets, tripling instagrams, 9 000 website visitors/per day. Visitors, stakeholders, participants share, discover and vote for their favourite demo.
What's new on 2017? Youtube and Facebook live gathered more than 35 000 views!
Media influence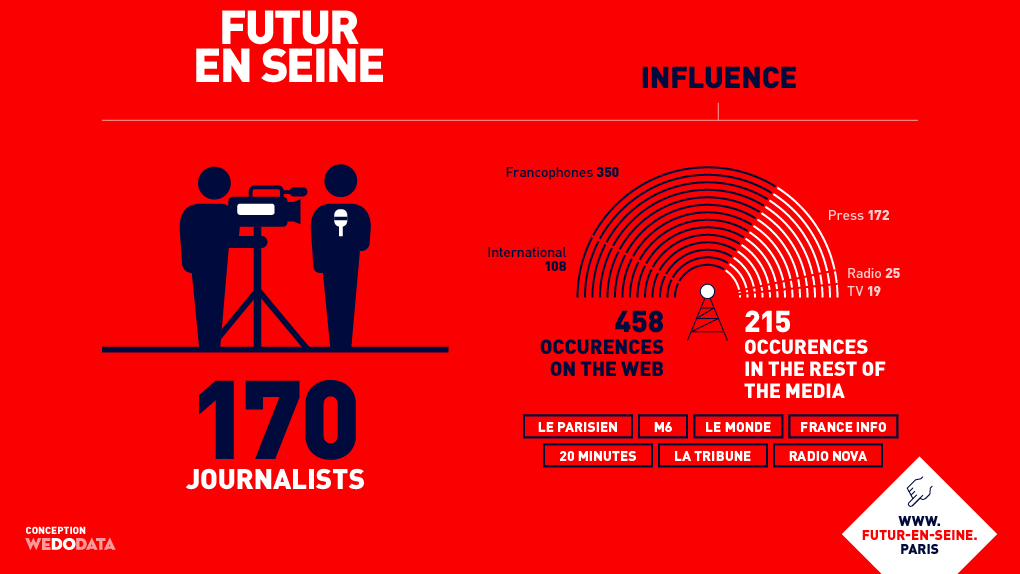 Since 2014, Futur en Seine collects every year +10% of media coverage. 2017 wasn't an exception: 673 media coverage proves that Futur en Seine is a matter of interest as much for specialized medias than general ones.
Last but not least : thank you
Futur en Seine couldn't amaze you that much without our partners support, that Cap Digital thanks warmly.
… and thank YOU all
Futur en Seine 2017 was a great success. More than ever, the festival shows it uniqueness and gathers Cap Digital 10 years' ecosystem and partners: enterprises, laboratories, schools, investors, local and regional authorities.
Thanks to all without whom the festival wouldn't be the same !
Discover the infrographics in its complete version.
See you in 2018 😉