Digital technology is also changing the way fans support their team. It all started with the simple idea of sharing scores on social networks, and it soon became very creative. In Sochi, the International Olympic Committee created an athletes' social network stream aggregation platform called Olympic Athletes Hub, while Manchester City started working with  Foursquare.
In France, stadiums are opening up to digital tech like trackers, replay tools, connected balls, and connected capsules (read Sports & Innovation series #1). Since 2012, Stade de France manages tweet battles during games. As France is preparing to host UEFA Euro 2016, several new stadiums are being built (Bordeaux, Nice, Lyon) and others are renovated (Stade Matmut Atlantique à Bordeaux, Allianz Riviera à Nice): all are connected and innovative. Fully connected fan zones will also be set up for the occasion.
A time of opportunity in France
Some European countries are more advanced on this front, but Japan is way ahead with the 2022 Olympics: organizers are building a fully connected village and robots will be welcoming visitors at the airport, according to the Ministry for Science and Technology.
Challenge number one is to fill stadiums, when smartphones and tablets have improved so much in terms of user comfort to follow sport events (usage increased from 15 % in 2011 to 30 % in 2014). Legions of startups are positioned on that niche, offering enriched broadcast and more social network experience, while others are taking the game event further with live virtual reality matches at home: LiveLike VR (Fortune).
"Clubs are generating more revenue from broadcasting contracts than from entrance tickets to the stadium" says Benjamin Carlier (Cap Digital newsletter, page 7).
To keep attracting fans, stadiums and sports venues need to promote new experiences and uses. In a few years time, sporting venues will be by a hybrid of commercial center an amusement park, a place where visitors spend the entire day.
Stadiums will benefit from digital technologies in two ways. Technology will help retain or regain high numbers of visitors by creating new customer experience. Technology will also generate new revenues and boost the sport industrie's business model. In France, 70% sports fans carry a smartphone at the stadium with a desire to use it in connection with the game (Source : Standford Business). Here are a few examples of how this double opportunity works out.
Being at the stadium is a different ball game
Feel the pain
It's now possible to feel what your favorite football player feels on the field while you are comfortably seated. Foxtel created the Alert Shirt, a connected shirt to experience all the sensations felt by football players. The shirt senses heartbeats, impacts, stress and exhaustion. The data is transmitted via Bluetooth and impulses are sent using feedback motors.
The collective experience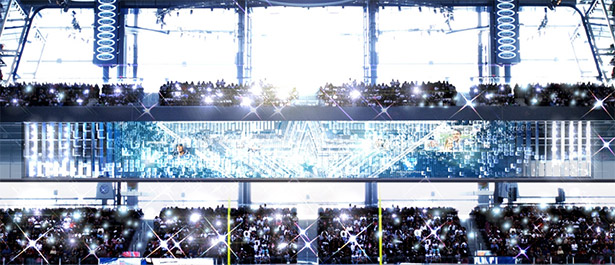 AT&T Stadium's   "Unite this house" application is designed to rally fans in the stadium and bring the public together every time something significant happens on the field. The application sends a notification to spectator's smartphones, making them flash and vibrate simultaneously.
Spectator comfort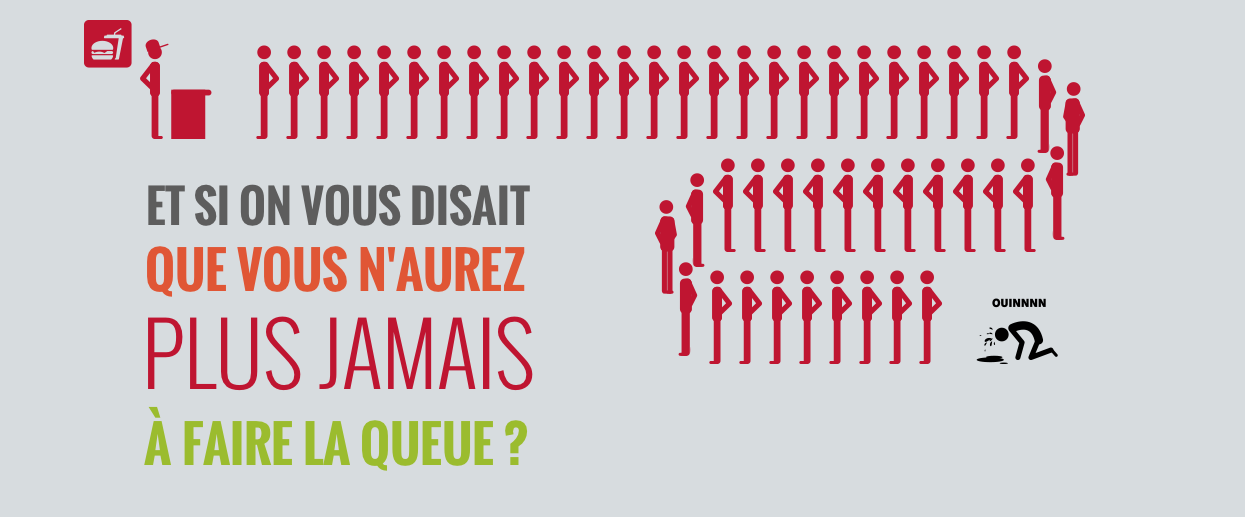 Several applications exist to make stadium goers' experience more pleasant than ever. With Apple's iBeacon technology, each fan is identified, precisely located and relevant information is sent to him via smartphone. "At the Ballpark" application was deployed in MLB stadiums: as they walk in, fans receive a map to his reserved seat and offers for upgrades and vouchers. During the game, he can view slow motion instant replays with Vogo, order food on Digifood, or tweet @beerme for a beer with NFL's  "Tweet a beer" with Miami Dolphins at Sun Life Stadium.
Generating revenue and optimizing energy consumption
Targeted interactive ads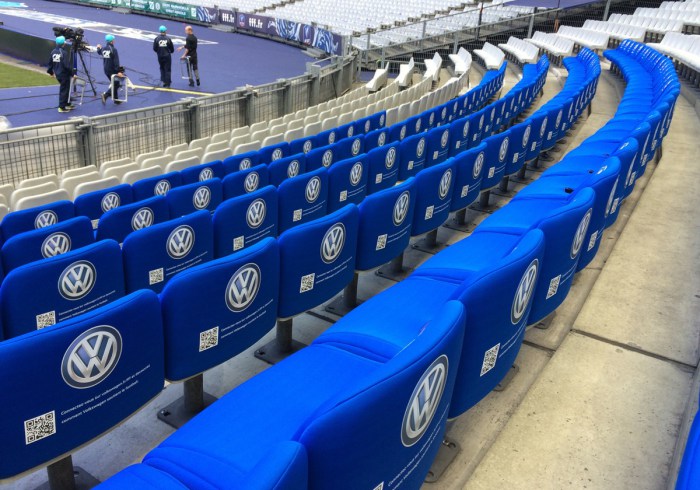 While improved customer experience applications have already been deployed in major stadiums and sports venues, digital technology is also a potential source of additional revenue for the stadium with improved advertisement resources.
Giant screens and flow tracking technology provides valuable information on spectator profiles and placement. On top of targeted advertizing based on placement, software empowers users who can now interact with ongoing adverts with QR codes (look up what Advertiseat is doing). Others like Tech4Team collect customer profile data at ticketing to display relevant commercials during the game.
Greener stadiums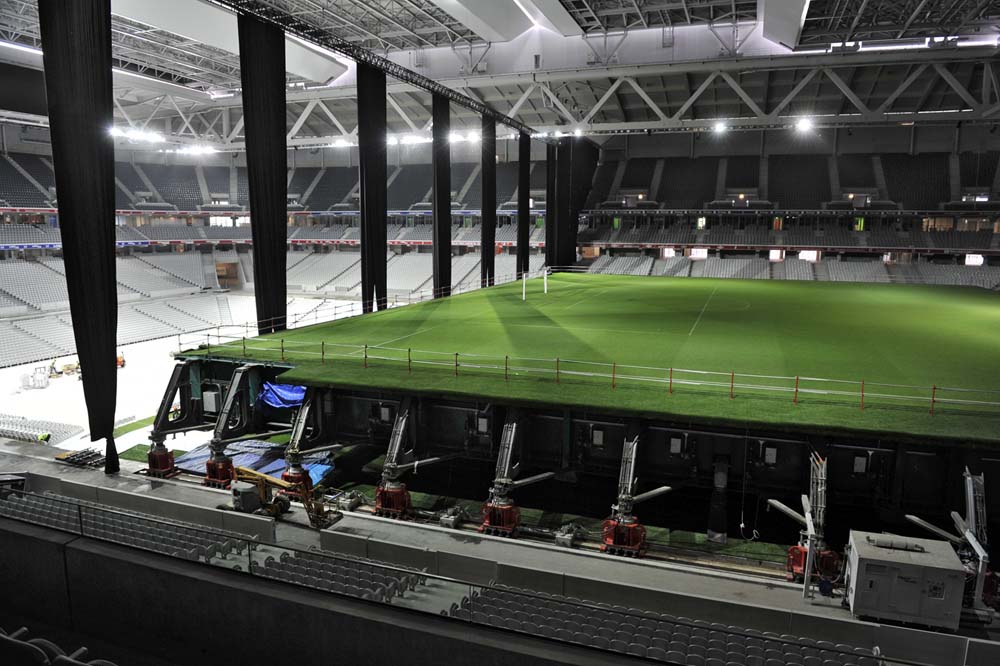 In an effort to reduce energy bills of major games, Saint-Etienne Metropolitan Authority started a project to light-up Stade Geoffroy-Guichard with electricity produced from recycled cooking oil (read more on HuffingtonPost). This project will be ready for the UEFA Euro 2016. The stadium is one of the first in France to have 2, 3 and 4G connectivity. Solar panels to power air conditioning are now used in many venues. Lille's Grand Stade has a retractable lawn.
A reference in sustainability and technology is San Francisco Levi's Stadium in the USA: visitors and guests may view a live dashboard display featuring current energy measurements, water and air monitors, and other dynamic green features as the building operates daily.
Ultimately, the last obstacle to innovation will disappear when perceptions on the role and function of stadiums evolve. Stadiums are becoming more than just sporting venues, they have a potential to be an entertainment venue offering a wide range of experiences. Changes come fast, and clubs in France are paying close attention to what is happening elsewhere, while start-ups are setting new trends and influencing consumer habits. These dynamics will be part of the show this coming June at Futur en Seine 2016.