My Buddy by Blue Frog Robotics – Futur en Seine 2015 © Dan Taylor / Heisenberg Media
CES took place earlier this month, and France was strongly represented in Vegas! Last year, French startups did not go unnoticed at the Mecca for tech products and innovative services. But no one had foreseen how their presence would boom in 2016 : from 68 startups in 2015, they were 190 at this year's edition of CES, with a record of 128 startups exhibiting at Eureka Park, the area dedicated to startups.
French startups represented almost 30% of the world presence in Eureka Park, with 128 French startups on a total of 457 startups exhibiting in Eureka Park. This number doubled in one year, and make France the second country most represented at CES behind the US (193 startups) and Israël (17 startups), the UK (14 startups) or Germany (10 startups).
The French Economy Minister, Emmanuel Macron, was also present in Las Vegas during CES along with the most successful French entrepreneurs : Ludovic Le Moan (Sigfox), Frédéric Mazzella (BlaBlaCar), or Jean-François Rudelle (Criteo). His presence was highly mediatised in 2015 and he was expected to meet Tim Cook, and Google X executives.
From Futur en Seine to CES: connected objects are under the spotlights!
Before you saw these French tech jewels in Vegas, you may have discovered them at Futur en Seine festival, at the heart of Paris last June.
Several exhibitors of the 2015 edition of the festival were at CES in 2016. You may have spotted 3D Sound Labs and its immersive headphones, Blue Frog Robotics and its adorable companion robot My Buddy, The Bubbles Company and its smart charging stations, house robot Keecker, 3D vision without glasses by Stereolabs, Tangible Display and its interactive table, Sculpteo's 3D printers, Sen.se's intelligent domotics, the video game Theme Mall by Craft ai and MASA group or Withings and its connected objects…Do names like Qwant, Lima, Parrot or SevenHugs also ring a bell? They were also at Futur en Seine in 2014 and before!
One of the prototypes exhibited at CES is a project selected by Paris area and its evolved version will be on demo at Futur en Seine next June. Scale1Portal is an immersive sport solution with the latest technologies in terms of movement analysis and visual restitution.
Several startups who applied for this year edition of Futur en Seine were also presenting their products at CES this year. We will be announcing our selection for Futur en Seine 2016 mid-february so stay tuned! We can affirm with certainty that several startups present at CES 2017 will also be at Futur en Seine 2016. Don't wait for next year to discover the next French tech startups, come see them at Future en Seine in June.
Our sponsors were also at CES : Engie, La Poste, Business France…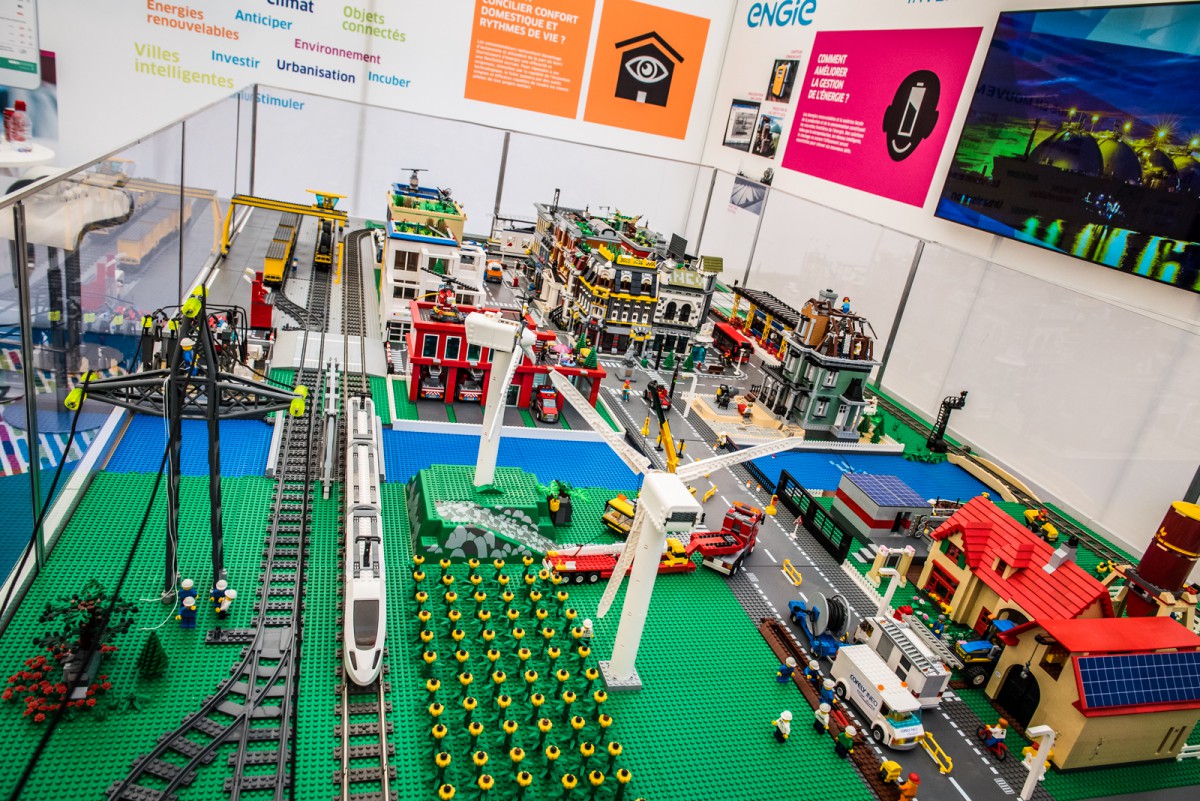 Futur en Seine's sponsor since 2014, Engie was at CES for the first time this year to showcase its innovative solutions and partners in the field of energy. It was also an occasion to meet and foster collaborations with "green" entrepreneurs. Three partners were present on Engie's booth : French startup Sigfox, in which Engie invested last year, and two American startups, Tendrill and Advanced Microgrid Solution (AMS). Engie also partnered with La French Tech building a marketplace to launch and promote innovative startup products.
Discover the videos of Engie at CES 2016:
– Episode 1 Connected Objects 
– Episode 2 Drones et robots 
– Episode 3 Housing and buildings of the future
La Poste, historical sponsor of Futur en Seine, entered its second year at CES in a row, with a booth five times bigger than last year. It brought several partners (Malakoff-Mederic, BNP Paribas Real Estate, Atol and Legrand), and 15 startups in various fields of innovation (smart home, e-health, smart city…). The Web School Factory, Futur en Seine's partner for several editions now, will be also present with the group.
Business France, the organ for the international development of the French economy, was also present at CES with 22 startups selected by a panel of experts (Olivier Ezratty, Pascal Cagni, Myriam Beque…). Business France organised a networking cocktail at Futur en Seine 2015 to present Slush to the startups on the Innovation Village.
You want to meet our sponsors and be a part of this fantastic French tech ecosystem? It is still time for international startups to apply for their own showcasing space at the heart of Paris during Futur en Seine, from June 6th to 9th. Save the date!